MD Custom Rx, a compounding-only pharmacy, is committed to providing high-quality compounded medications in the dosage form and strength prescribed by the physician. Through the triad relationship of patient, physician, and pharmacist, all three can work together to solve unique medical problems.
The demand for professional compounding has increased as health care professionals and patients realize that commercially available medications do not meet the needs of many patients, and that these patients may have a better response to a customized medication dosage form. Our compounding professionals can customize medications to fit each individual patient.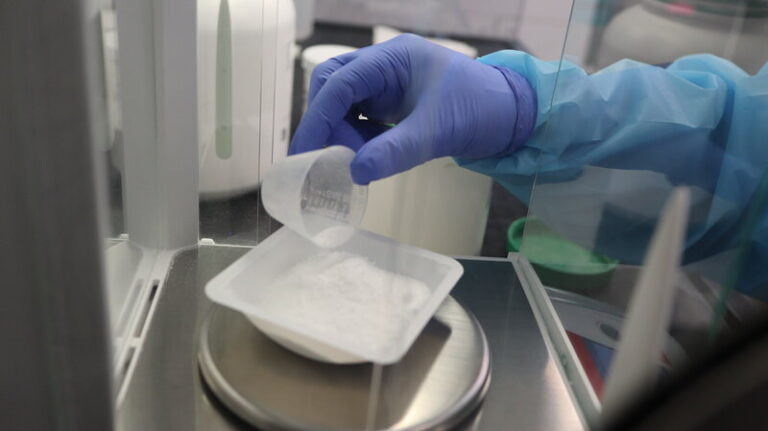 What is prescription compounding?
We often get asked to supply a list of the preparations we prepare. To limit ourselves to such a list would be a disservice and would prevent proper understanding of what prescription compounding really is. Above all else, think of us as your medication problem solvers! Prescription compounding exists to help meet unique needs that are not being properly addressed through commercial drug products.
The best way to illustrate this may be through some examples:
Quality Compounding Maximizes Therapeutic Outcomes
The efficacy of any formulation is directly related to its preparation, which is why THE SELECTION OF A COMPOUNDING PHARMACY IS CRITICAL. Ongoing training for compounding pharmacists and technicians, state-of-the-art equipment, and high-quality chemicals are essential. Experience and ingenuity are important factors as well. When adjusting a formula or developing a unique preparation, our compounding pharmacists must consider physical and chemical properties of both the active ingredient(s) and excipients, solubility, tonicity, viscosity, and the most appropriate dosage form or device for administering the needed medication. Standard Operating Procedures are in place, stability studies are considered when compounding, and appropriate potency and sterility testing are performed.

Our compounding professionals can formulate suitable medications such as topical and transdermal creams, sublingual drops, oral and nasal sprays, lollipops, rectal solutions and suppositories, and other customized dosage forms.
MD Custom Rx's Commitment to Quality
MD Custom Rx is a PCAB Accredited Compounding Pharmacy, certified to follow the highest level of prescription compounding standards.
PCAB Accreditation is awarded only to compounding pharmacies who:
MD Custom Rx offers a broad range of prescription compounding options, as well as a high level of personalized attention and care. Having your prescription prepared by a PCAB Accredited Compounding Pharmacy is important because it helps to ensure your prescription will be safe and potent.
While all compounding pharmacies are required to meet the requirements set by their respective state boards of pharmacy, PCAB Accreditation denotes a more stringent and comprehensive standard which serves as an assurance that our compounding pharmacy has been tested against the profession's most rigorous standards.
Our accreditation confirms our commitment to providing safe, personalized solutions that meet the medical needs of our patients – and the needs of the healthcare providers in our community.
Solving Medication Challenges
With unique delivery systems and devices, compounding is the perfect fit for a range of medical specialties.